Hey my little Disneys!

I hope you're all enjoying the Summer! I know it's only August, but believe it or not, I'm already SO excited about my favourite season, Autumn.

I've made no secret of the fact that I absolutely love all things Autumn, and typically I'm already raiding the shelves of my local Homesense, and picking up all the beautifully decorative pumpkins and scented candles ready for the season ahead. C
andles in particular are one of my absolute favourite things, but I always feel strange lighting them during the Summer months...

Where I can, I LOVE to incorporate Disney into my home too, as subtly and sophisticatedly as possible, and there is a brand that totally allows you to do this with it's amazing range of scents and fragrances...
I present to you all, the Maple & Whisky Candle Company!

I have been a HUGE fan of Maple & Whisky's offering for several years now...
From Dole Whip to Pirates of The Caribbean, Walt's Office to The Grand Floridian Hotel... there isn't any scent that takes me back to Disney trips that Maple & Whisky haven't perfectly captured in their wonderful range of candles, melts, diffusers and room sprays!
I was very lucky to receive a couple of my favourite Maple and Whisky candles as a gift, and I can't wait to review them for you in this post.

Enjoy! And if you too feel the desire to purchase a little Disney magic for your home, be sure to use the discount code MERCEDES10 to receive some money off!
- Enjoy! And let me know your favourites!
First up we have Mickey Waffles.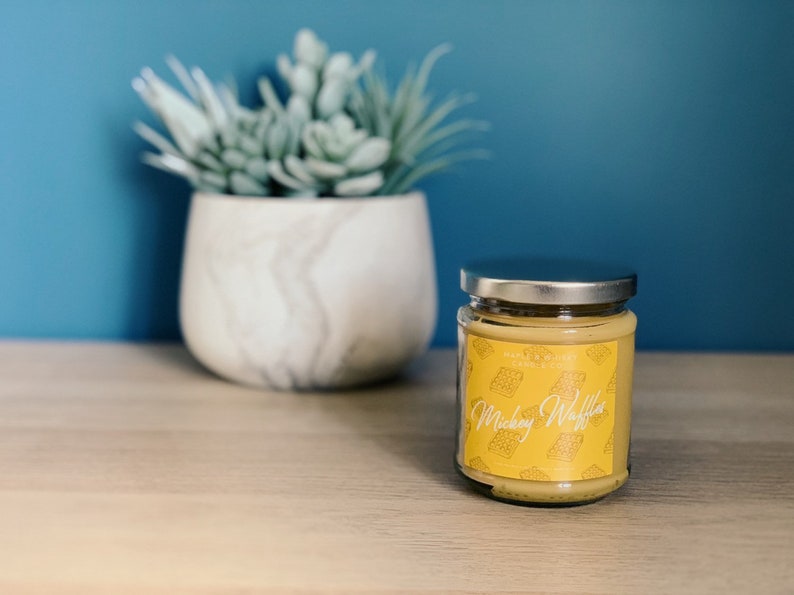 Photo Credit: Maple and Whisky
Maple & Whisky describe this one as a scent infused with 'hot buttery waffles' and 'maple syrup notes'. For me, smelling this one straight from the jar, the maple syrup notes are far stronger than the buttery waffles depicted playfully on the jar label.
Mickey waffles are an absolute classic favourite for Disney fans and park goers alike, so I was really pleased that some of those familiar notes were detectable.
Upon lighting the candle, my home was quickly filled with sweet, sugary notes. I love sickly smelling treats, but this one may be a little too much for those that are not into sweet scents.
Remember to always burn your candles until all of the top layer of wax has melted for your first burn, and the candle will then burn down more evenly.

Moving on...

I was also very pleased to receive Main Street Bakery.
This scent is described by Maple & Whisky as 'hot baked cinnamon rolls fresh from the oven, with base notes of chocolate chip cookies'.

The description is not wrong.
As soon as I took the lid off the top of this unassuming little jar of loveliness, the fragrant notes from the bakeries of Disneyland quickly hit me.
Maple & Whisky invite you to 'immerse yourself in the wonders of Main Street' with this candle, and I was more than happy to oblige.
This is definitely my favourite of the two. Whilst still very sweet, the undertones of this candle are a little more 'woody' and therefore, probably a little more suitable for the average person that may not love sickly smells as much as I!

Once again, the Maple & Whisky candle burnt beautifully and made my home smell glorious – just like a Main Street Bakery!
If you have any further questions about Maple & Whisky or you have a favourite scent you recommend I try, please do let me know in the comments!

- Mercedes